Library News
May 19, 2023
Our 2023 Summer Reading Program theme is "All Together Now." Recording of reading will all be done in-person in the libraries this year, so stop in to check out books and sign up for in-person programs and take-home activities!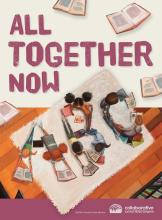 May 09, 2023
Ohio's libraries are apart of an initiative to learn how patrons use technology and the internet and find where connectivity is lacking. This information will be used by the state when deciding how to invest the funds coming from the Infrastructure Investments and Jobs Act.
If you would like to take the survey, click here! It should take no more than 10 minutes to complete.