Library News
May 02, 2022
Book Buddies is a weekly program that pairs volunteer reading tutors (entering grades 5-12) with younger buddies (entering grades 1-3). This program provides younger students with positive reading role models and helps enhance literacy skills while having fun. Buddies and tutors read together, play games, and do activities throughout the summer. Tutors and Buddies sign up for one, ninety-minute session each week for six weeks: June 13 - July 21, 2022.
Pemberville: Mondays at 10:00 a.m. or 1:00 p.m.; Thursdays at 1:00 p.m. or 6:00 p.m.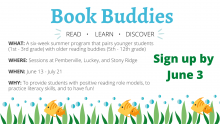 February 09, 2022
After over thirty years of utilizing the building in downtown Luckey, the Luckey Branch Library will be moving to a new location in 2022! The Pemberville Public Library System purchased the Troy-Webster American Legion property in December 2020 for the future home of our Luckey Branch Library. The Library Board of Trustees and Library Staff spent 2021 working with Buehrer Group Architecture and Engineering to make plans for renovating the building. Renovations will be starting soon, and the goal is for renovations to be completed by late Summer 2022.