Submitted by
Director
on
Mon, 05/01/2023 - 12:07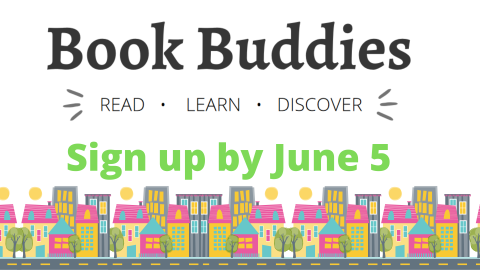 Book Buddies is a weekly program that pairs volunteer reading tutors (entering grades 5-12) with younger buddies (entering grades 1-3). This program provides younger students with positive reading role models and helps enhance literacy skills while having fun. Buddies and tutors read together, play games, and do activities throughout the summer. Tutors and Buddies sign up for one, ninety-minute session each week for six weeks: June 12 - July 27, 2023.
Pemberville: Mondays at  9:00 a.m., 11:00 a.m, or 1:00 p.m.; Tuesdays at 9:00 a.m. or 12:00 p.m.
Luckey: Thursdays at 1:00 p.m. or 6:00 p.m
Stony Ridge: Wednesdays at 9:00 a.m. or 11:00 a.m.
Sign up on or before Monday, June 5th at Pemberville, Luckey, or Stony Ridge libraries. Download forms: Tutor or Buddy